Weekly round-up: Exciting times
Hey podheads, decided to a small break last week. Anyway, it was an exciting week with plenty of developments to unpack. Here's issue #27.
More than piece of pie
Well…seems like not a week goes by without some news about Spotify. Luke Riley over at Panoply published some interesting data on whether Spotify is helping in growing podcast audiences. Here's the bottom line
Over the past year, since Spotify began offering large numbers of podcasts in its app, the company has increasingly been steering its listeners toward spoken word shows. Our data show the effort has been paying off, and not (or not just) by stealing market share from other apps. Spotify actually seems to be growing the podcast audience, making gains in areas of the U.S. that have been slower to adopt podcasting.
This is what was expected of Google Podcasts, which hasn't happened so far. Here's another data point from podcast host Libsyn which serves as a confirmation.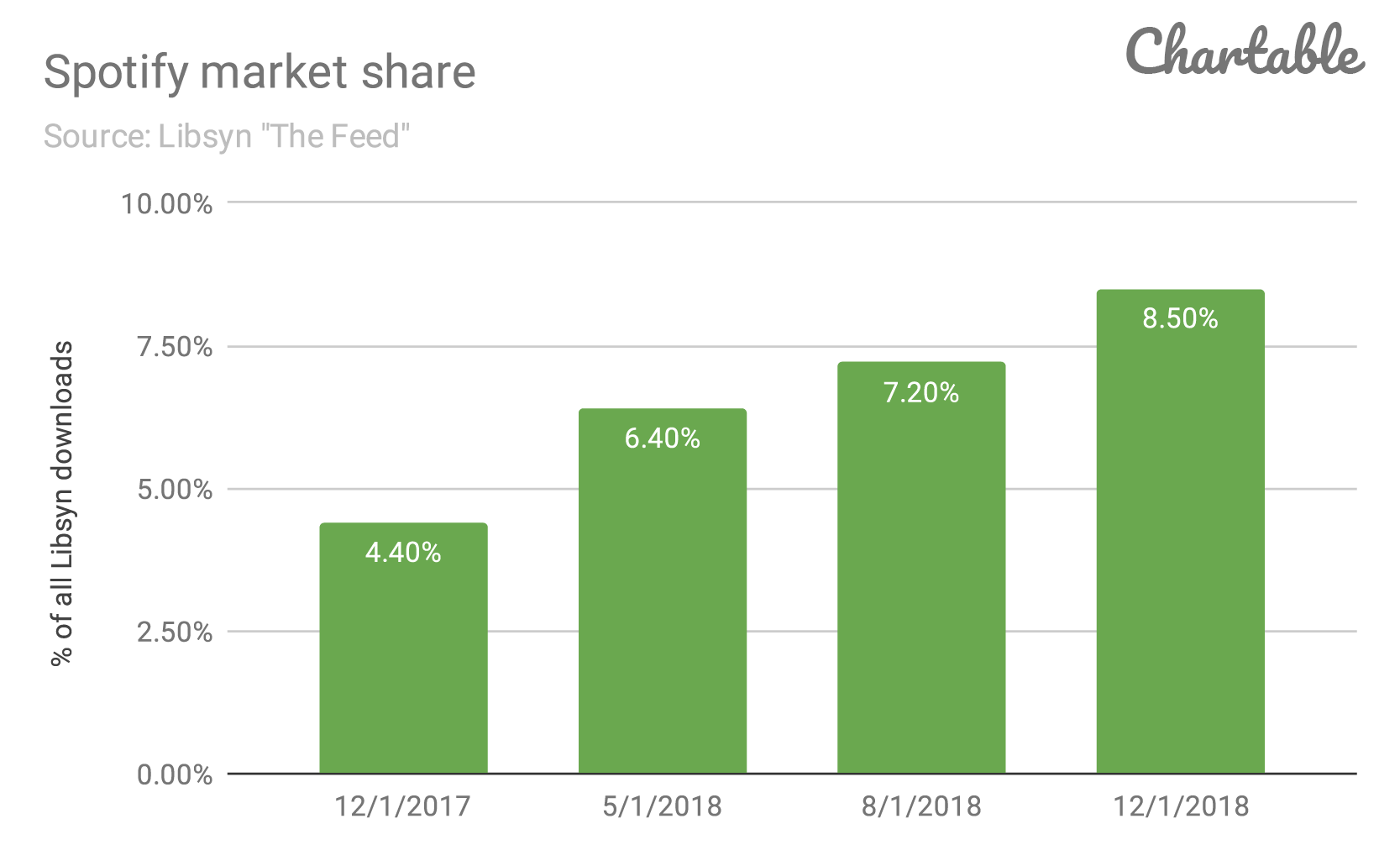 Spotify is also lookout for a sports lead to "Shape Spotify's exclusive content strategy for the sports vertical with a specific focus on podcasts".
In other Spotify news, the streaming giant finally launched in India.

Competition watch
Pandora last week launched a new feature that marries music and podcasts called "Pandora Stories". The feature allows creators to add their own voice messages to playlists. Here's an excerpt from the blogpost announcing the feature:
Podcasts can tell stories about music, but generally don't include full songs. And playlists have songs, but lack personal context from the artists behind them. Pandora Stories have arrived to fill that void.

Pandora Stories give artists and creators of all kinds – musicians, actors, filmmakers, athletes, celebs, authors, and beyond – a new way to connect with fans in an intimate and authentic way, in their own words, using the power of music.
This feature is part of Pandora's Artist Marketing Platform (AMP), a toolbox to help creators grow their reach. On first blush, this is quite an interesting feature because it allows creators to add invaluable context to their music in their own personal voice.
Creators can also leverage the full range of Pandora's licensed music to create stories which makes the feature potentially powerful. But it remains to be seen if the feature will indeed be widely adopted and if Pandora will throw its full heft behind it.
Golden age of podcasts
Dave Zohrob, CEO and co-founder of Chartable published a post on why he thinks we are entering the Golden Age of Podcasts with some rich data to back it up.
Deluge!
The data from Charatble contained an interesting statistic:
In 2018, an average of 575 podcasts were started every day—that's about one podcast every three minutes.
Well, a lot of people have a lot of different views on the so-called content deluge. Steven Goldstein of Amplifi Media ponders on the question of who is going to listen to all this content:
How many podcasts are in your cue that will likely not be listened to?

So, even with the long tail theory of podcasts serving niches, it begs the question, who is going to listen to all of this stuff?

Overload……..
Moneytalks
Barstool Sports pulled in $15 million in ad revenue according to Digiday. Not a bad number eh?
WaitWhat, the content firm behind podcasts such as Masters Of Scale and Should This Exist raised $4.3 million in Series A funding.
Gerry Smith of Bloomberg penned an interesting post on whether all the enthusiasm surrounding podcasts can translate into revenues.
Giving listeners what they want
A report by The Lensfest Institute on audience revenues contained some interesting numbers about Slate Plus, the publisher's membership program. Here's the excerpt from a case study on the strategy of offering member-only content.
The new model has been a great success for Slate. The free version of Slow Burn generated 1.5 million downloads per episode, and the podcast as a whole drove 6,000 memberships in 2018. Slate sees this model as the future of its podcasting strategy for members: to provide enough value to attract and engage consumers in the free content, while offering premium, behind-the-scenes content as an added benefit to member.
Bytes
Lex Friedman, the Chief Business Development Officer and Korri Kolesa, Chief Revenue Officer of Stitcher are leaving Sticher to join Art19.
Cadence13, whose roster of clients include Crooked Media and Tenderfoot among others is moving its hosting from Art19 to Panoply's Megaphone.
This is funny. UK's International trade secretary Liam Fox was thoroughly mocked after it was disclosed that his department spent £100,000 on promoting Local to Global podcast just to see a paltry 8,398 downloads. Absolutely nothing seems to be going right for Britain at this point. I'm laughing imagining the scene if Boris Johnson was tasked with this project instead.
Deadline reports that Phoebe Judge and Lauren Spohrer are set turn adapt Criminal and This Is Love into a scripted series.
Why Musicians Are Starting Their Own Podcasts — and Why the Podcast Industry Should Pay Attention – Cherie Hu/Bello collective
I've talked about the importance of having a website for your podcast in some previous issues. If you don't know how to build one, then you should check out Podsites by Radiopublic. Makes is really simple to create one.
NOTA, in soundbites – Usha Raman/The Hindu